Ruckus (Sinners of Saint #2) by L.J. Shen
TITLE: Ruckus
SERIES: (Sinners of Saint #2)
AUTHOR: L.J. Shen
GENRE: Contemporary Romance
RELEASE DATE: May 26th, 2017
Rosie
They say that life is a beautiful lie and death a painful truth. They're right.
No one has ever made me feel more alive than the guy who serves as a constant reminder that my clock is ticking.
He is my forbidden, shiny apple. The striking fallacy to my blunt, raw, truth.
He is also my sister's ex-boyfriend.
One thing you should know before you judge me;
I saw him first. I craved him first. I loved him first.
Eleven years later, he waltzes into my life, demanding a second chance.
Dean Cole wants to be my bronze horseman.
But my clock is ticking. See, I'm not like the rest. I have an illness.
Sometimes I conquer it.
Sometimes it conquers me.
My white knight has finally arrived.
Hopefully, he isn't too late.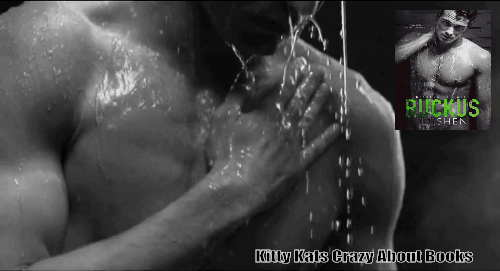 I'm going to try and make this as spoiler free as I possibly can because there are a few wee twists and turns thrown in for good measure that will have you falling in love with Dean even more than you were beforehand.
🎶
PLAY LIST
🎶
Halsey – Hold Me Down
Hey Violet – Guys My Age
Train – Drops of Jupiter
Fall Out Boy – Immortals
Hooverphonic – Mad About You
Breathe Me - Sia
RUCKUS:
Is the second instalment in the (Sinners 0f Saint#2) series by L.J. Shen, and needs to be read in order for you to fully enjoy/understand this series.
This is Rosie and Dean's story, Rosie is Millie's little sister. In the previous book Dean 'Ruckus' Cole dated Millie LeBlanc for eight months, she's also Rosie's older sister. But it was Rosie who actually noticed Dean first in the hallway at high-school in between classes. What appealed to her about Dean was the fact that he didn't take himself as serious as all the other broody douchebags at their school.
💥
He was my forbidden, shiny apple. The striking fallacy to my blunt, raw, truth. He is also my sisters ex-boyfriend.
Just the synopsis alone gutted me, I kind of knew an emotional roller coaster out of control was going to come at me full throttle with all the feels thrown in and that is exactly what this author threw at me!! I inhaled this, time just stopped being a factor whilst reading this, the world could've ended and I wouldn't've known, there I was on a sunday curled up on the couch, seconds, minutes, hours I didn't lift my eyes up from the pages, this author had me eating out of the palm of her hand, I sped through those chapters like a junkie on a high.
🥀
I wasn't born like the rest.
I had an illness.
Sometimes I conquered it.
Sometimes it conquered me.
Everyone's favourite rose was wilting.
But no flower wants to die in front of an audience.
🥀
In the beginning of the book Dean did come across like a man child arrogant oversexed jerk that grated on my nerves, everything had a sexual innuendo but then the bugga kind of redeemed himself grew on me the more I progressed through the book and he crawled his way into my heart.
💥
He was a #Hothole. A privileged, unhinged, egomaniac, from Todos Santos who thought he deserved everything and owed nothing. Dean leaned in my direction and pressed his index finger to my cheek. He produced an eyelash he picked from my face, "Make a wish."
💥
Dean 'Ruckus' Cole was a different kind of asshole to Baron 'Vicious' Spencer. He fucked you over with a polite smile on his face. In that sense, he was the joker. In his mix of confidence, cockiness, good looks, and money, there was a dash of insanity thrown in.
Like an onion you need to peel layer by layer before you get to the real person that makes up Dean, he hides behind his rich silver spoon persona, he drinks, he smokes weed, he uses sex, he's beautifully broken, but go beyond all that and he has so much depth, he's charming, if he wants something he will go to the ends of the earth to get it, and he wants Rose, nothing and no one is going to stand in his way. But Rose has an illness and her clock is ticking at full speed daily, have these two star crossed lovers left it too late?
Well I'm not telling, which is why I urge you to one click this come release day.
MY THOUGHTS:
Go into this with an open mind, ok yes he was her sister's ex, does that make it right no but it kind of does, you need to look at the big picture before you turn your back on this amaze balls of a book, yes in college Dean and Millie dated, nothing at all happened between Rose and Dean though they had an undeniable attraction neither succumbed to it, it's not until they are in their adult years that they reconnect (eleven years later to be exact) and that attraction is still there. So is that grounds for not reading this book? Yeah probably not!! Nothing from the above screams taboo!! Will I be witch hunted for my views on this yeah probably but remember this before you do, controversy and fiction go hand in hand in the book world.