Kash (Walk Of Shame 2nd Generation #3) by Victoria Ashley
TITLE: Kash
SERIES: (Walk Of Shame 2nd Generation #3)
AUTHOR: Victoria Ashley
GENRE: Contemporary Romance
PUBLICATION: June 20th, 2017
My name is Kash Knight and I'm a fucking protector…

It runs deep in me, this need to dedicate myself to a woman and make her feel secure and cared for in every single way. Not just physically, but emotionally.

But when women see my hard body, all they want is for me to pleasure them and give them their ultimate fantasy. I need something more though, someone I can give my heart to.

And when my eyes land on the sassy blonde that seems too busy to put her needs first, I know without a doubt that it's her I want to take out and show what it feels like to go out with a real man.

To be touched by a real man.

Eden Quinn…

I need a chance for her to see me as something other than just a male fucking stripper– a dirty temptation that knows how to make a whole room of women hot and wet.

Slowly, I begin to work my way in and when I find out she has a son that means more to her than life itself, I want so much more than I ever could've fucking imagined.

I want to take care of them and show Eden what it's like to be safe and protected.

I'm making her mine and nothing is going to stand in my way… not even him.
Victoria Ashley grew up in Rockford, IL and has had a passion for reading for as long as she can remember. After finding a reading app where it allowed readers to upload their own stories, she gave it a shot and writing became her passion.
She lives for a good romance book with tattooed bad boys that are just highly misunderstood and is not afraid to be caught crying during a good read. When she's not reading or writing about bad boys, you can find her watching her favorite shows such as Sons Of Anarchy, Supernatural and The Walking Dead.
KASH:
Is the third and final instalment in the (Walk of Shame 2nd Generation) series by Victoria Ashley.
☹️
For years Kash has aspired to open up a gym to train guys just like his deceased father and him wanted to do, now it's up to Kash to make that dream a reality, the only way to do that is with fast cash are stripping and MMA fighting.
He's also wanting to settle down and have a family to love, cherish and protect which is Kash's most enduring qualities over all the other walk of shame characters.
I want to be her safety, the one she can come to when she needs comfort and protection from everything bad in this fucked up world.
On one of his private stripping parties he meets Eden, the woman captivates him to no end, her beauty astounds him, her sassy mouth intrigues him, she acts as though she doesn't want to be there, and types on her phone rather than watching him do his thing, before his dance is over she's out the door.
Kash can't stop thinking about her, after one of his MMA wins he heads on over to
'Sensual Touches'
for a massage and encounters Eden the woman he never expected to see again. What should've been a straightforward massage turned into anything but. Kash turned the tables when he flipped her onto the massage table and showed her how a real man should treat a woman, even if it was only just a massage.
Then again she shocks him when the last place he ever expected to see her was sitting at the bar at the one place he strips
'Walk of Shame'
from that point onwards things progress between these two fast and furious, Kash knows she's the woman he wants and makes it his mission to get her, unbeknown to either of them he's already met her son and they have a bond no one can break.
I need a chance for her to see me as something other than just a male fucking stripper - a dirty temptation that knows how to make a whole room of women hot and wet.
Eden is a solo mother trying to raise her son on limited income with a dead beat ex knight making an appearance throughout the book.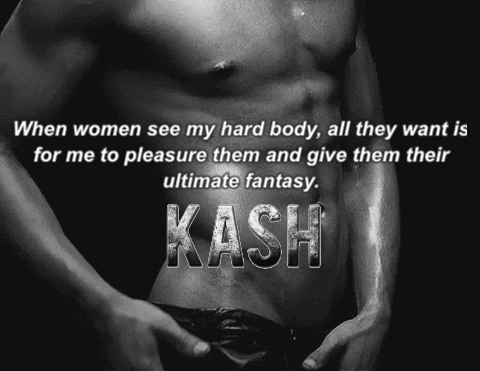 "I'll take whatever you can give me within the next thirty minutes," he says, his voice deep and sexy. "Honestly, I would've been down for begging you at this point and I don't beg very often. Fuuuck me, keep going, Eden. I like it hard and rough. Don't fucking take it easy on me."
How can a guy getting a massage come across soooooo hot!!
We briefly reconnect with Slade, Aspen and their newborn son Mason.
Hemy and Onyx with her swollen belly
Cale, Riley and baby Haven
Stone and Sage
Satyx and Meadow
But then we say goodbye to them when we close that last page in this book.
I am such a book whore, I flipped and changed my mind between these guys like a crack whore but Kash had stolen my heart by the first few chapters of the book.
He's just more.. That's the best way to sum him up. I've read all the books this author has published, and have loved each and everyone of them, each book is unique, the characters crawl into your hearts and take up residence, it also helps that each and every cover of hers are hot, being a cover hoe this author has the best covers I've ever seen, the eye candy on those can start up riots on who licked it first, then step into the pages and believe it not you'll be claiming him as your next book boyfriend.