TITLE: Dirty Headlines
AUTHOR: L.J. Shen
GENRE: Romance
PUBLICATION: September 7th, 2018
Célian Laurent.
Manhattan royalty.
Notorious playboy.
Heir to a media empire.
…And my new boss.
I could have impressed him, if not for last month's unforgettable one-night stand.
I left it with more than orgasms and a pleasant memory—namely, his wallet.
Now he's staring me down like I'm the dirt under his Italian loafers, and I'm supposed to take it.
But the thing about being Judith "Jude" Humphry is I have nothing to lose.
Brooklyn girl.
Infamously quirky.
Heir to a stack of medical bills and a tattered couch.
When he looks at me from across the room, I see the glint in his eyes, and that makes us rivals.
He knows it.
So do I.
Every day in the newsroom is a battle.
Every night in his bed, war.
But it's my heart at stake, and I fear I'll be raising the white flag.
DIRTY HEADLINES:
is a full length romance novel by L.J. Shen. Spoken in Dual Perspectives. In this we meet Célian Laurent & Jude" Humphry.
Chuck wearing Twenty three year old Jude, is having a shittastic day that tops all shitty days, broke, newly single, and jobless, and a father whose sick, whilst sinking her sorrows at a bar she meets a dirty talking French guy, who looked like a god among men, he says all the right things, one thing leads to another and she's having more than one orgasm in a private swanky hotel suite at the Laurent Towers Hotel he invites her to.
Normally not one to have one night stands, she's also not one to steal either, but seeing his expensive clothes, the bulge of his wallet the temptation became too much..Knowing he was leaving New York in the morning eased her guilty conscience somewhat believing that she would never set eyes on him again.
But the first day at her newly appointed job sees her locking eyes with the dirty taking, hot French tourist who was had been her one night stand.
My dirty one night stand was my boss. My lying. American boss.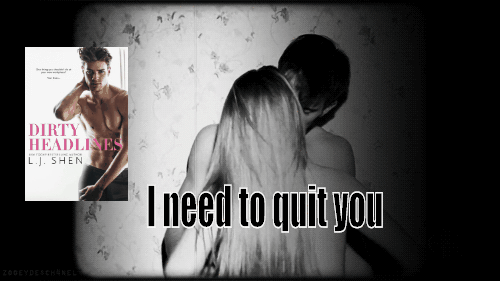 I couldn't forget how it felt when he touched me.
When his mouth was on mine.
When his hands pinned me to the wall.
When he made me forget about my sick father, paying bills, and unemployment.
In the newsroom they were at each others throats, fighting, clashing, flirting with hooded lustful eyes, but in private, away from prying eyes, their main battle was trying not to rip each others clothes off.
This book right here was one of my most highly anticipated books since it was first announced that L.J.Shen was going to bring us new characters to love, and f#ck I kid you not, these characters put all previous characters to shame, I FLOVED these two, the banter, the too and fro, the one liners, the sexy times, the dirty talk ticked all those giddy hoe tingles in all the right places, this was a slow burn but quick to take root once these two were under the same roof.